AJ Cochrane & Sons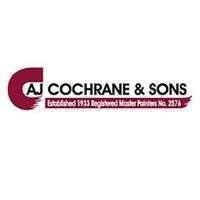 AJ Cochrane & Sons are your complete painting service all around Western Australia. We've been delivering quality painting results with friendly and comprehensive service since 1933. You can count on AJ Cochrane for commercial and domestic projects with our experienced team that provides competitively priced quality finishes.
We offer a large range of services from repaints to industrial floors and commercial exteriors to residential interiors. We are committed completing your painting job within time and budget – always getting it done right the first time.
We start you off with a free consult and no obligation quote. We'll do a walkthrough of the project so we are all on the same page and all your questions are answered. We also encourage you to join our staff on our regular visits to check on the progress of your project.
We care about our family business that has been around for decades. It is a well respected business that has a strong desire to deliver on our expectation of high quality finishes and experience. Our managing director with over 40 years of experience in the trade believes anything worth doing is worth doing well.
We group our customer base into Commercial, Repaint and Residential markets. Our Residential Market is more focused on the affluent side of the market. Our Repaint and Commercial markets tend to cross over where we work on areas such as hospitals, new construction and high-rise maintenance. AJ Cochrane customers are people who greatly value a quality product and service and we are sure to deliver on that desire.
We are committed to having environmentally friendly practices on our painting projects. We support our quality reputation by complying with legislation, guidelines and safety, environmental training and environmentally friendly equipment for our staff and premium paint.
Contact us today for your next painting job!