Konnect Kitchen Store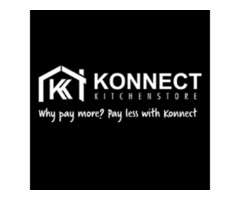 Konnect Kitchen Store is a Melbourne based kitchen design and renovation company that also offers a range of high-quality kitchen & bathroom products at an affordable price point. We stock everything right from hardware hinges and soft-close components to kitchen appliances, and everything else to assist you to complete the task. We are constantly adding more items to our range. We offer our customers an array of kitchen benchtops both in laminate and stone. We are also known for leading cabinet makers in Melbourne for providing custom furniture solutions for your home and office.
If you have a bigger project, then talk to us about our range of small or luxury kitchens or bring in your measurements and we'll help you to customise your kitchen, laundry, pantry etc. to suit your needs. Call us on 03 9796 3337 today!