National Combined Services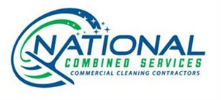 We at National Combined Services are committed to ensuring a clean and healthy environment for our customers. With over 10 years in the cleaning industry, we have the expertise and experience to carry out the task at hand to the highest of standards and have earned a reputation of consistently going above and beyond our clients' cleaning expectations.
Our service to you doesn't end at the completion of cleaning your space, we also provide onsite training to help you get the best use of cleaning equipment and provide insight on all the environmentally friendly and sustainable chemicals we use.
Our business is making sure you shine, so you no longer need to stress about the mess!